Hot Water System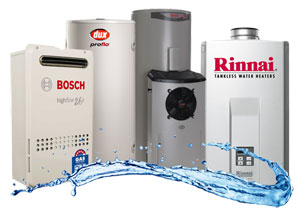 If a long hot shower is what you enjoy or you want to take advantage of your bath tub with a nice and warm relaxing bath treatment, then don't let an old or faulty hot water system ruin that for you.
If you find your self running out of hot water very quickly, or are worried about the costs of your water bill we have solutions that can help you enjoy your bath or hot shower with less worrying.
We can replace your old expensive and unreliable hot water system with the latest Gas or Electric systems that are much more water and power efficent, this will immediately aid in reducing your water and electricity costs.
Do you have a large family and the last one always has to have a cold shower, that's not fair let us install a large capacity or instant hot water system to ensure the whole family gets to enjoy a nice warm shower.
If you don't use a lot of hot water or are only home in the evenings talk to us about an efficient peak/off peak water system. These systems are not only good for the environment but they also save you money.
What good is a nice warm shower without the right shower head, talk to us today about our range of bathroom services.
KEEP IN TOUCH
24 Seven Emergency Plumbing
PO Box 4110, Bexley North
NSW, 2207
Phone.
1300 789 080
Fax.
02 9502 2886
Email.
info@24sevenplumbing.com.au